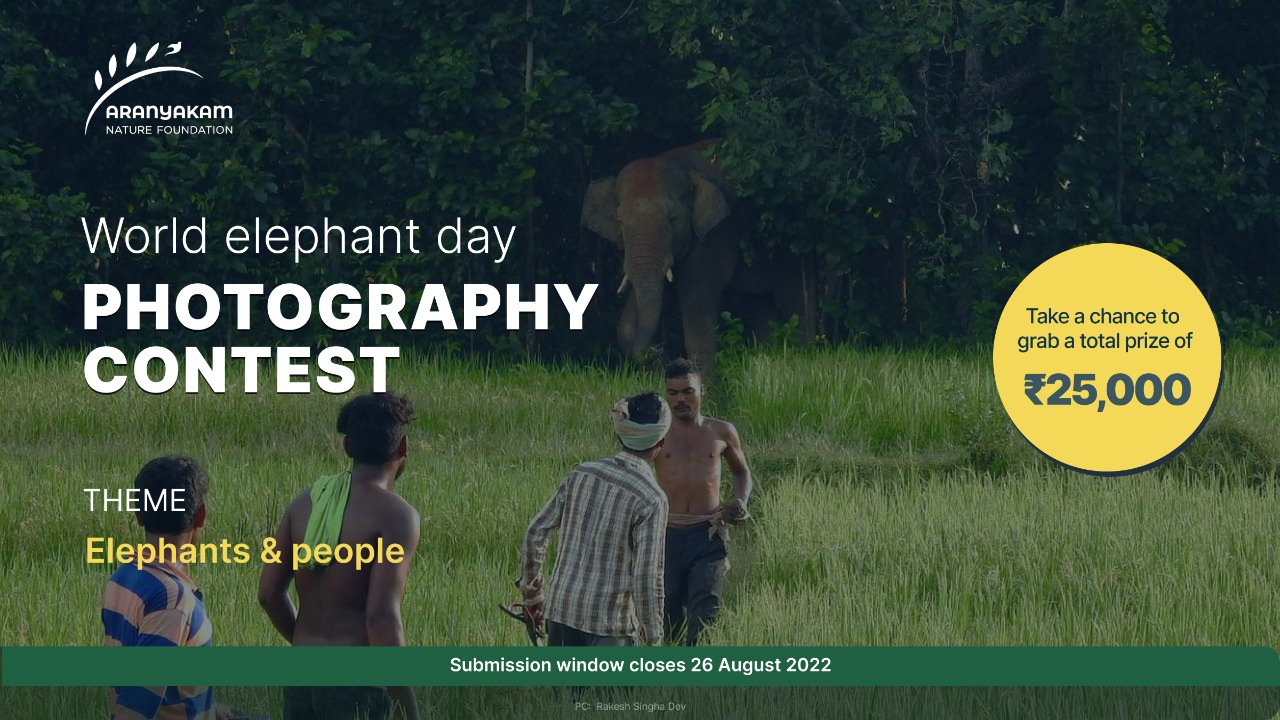 Theme: Elephants and People
Elephants have been a part of our culture, and we have lived in harmony with wildlife, especially elephants, for centuries. However, the situation has come where elephants are being threatened due to habitat loss and fragmentation. And the relationship between people and elephants has become strained leading to negative interactions, which we call conflicts. The dimensions of human-wildlife conflict are as varied as the causes that lead to them. But one thing is certain. Today elephants and humans live in closer contact than ever before, and new stories of their contact emerge every day – some kind, some painful, but all important for the conservation these gentle giants.
We, at Aranyakam Nature Foundation, invite you to enter your photographs that speak of these stories which tells importance of the conservation of elephants or some special behaviours or some interactions with humans/human made objects/human made landscapes in our Photography competition themed "Elephants and People".
This World Elephant Day, let your stories be heard.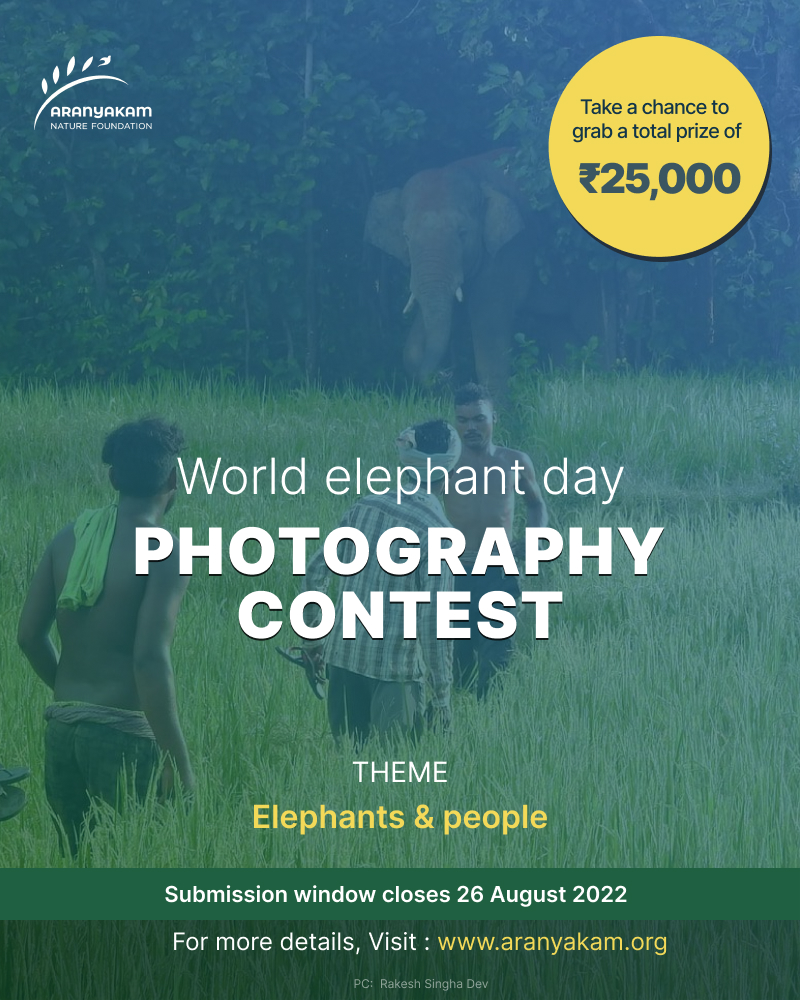 Best submissions will receive cash prize
First Prize: Rs 10,000/-
Second Prize: Rs 5,000/-
Maximum 5 special mention prizes, Rs 1000/- each
Registration closed, results will be announced during National Wildlife Week (October 2-8, 2022)
Contest rules and guidelines:
The contest is open for all Indian nationals.

You can submit up to two entries.

Entries should conform to the theme of the contest.

Only single exposure and single frame pictures will be accepted.

Images should not be larger than 10 MB or smaller than 1 MB and should be in JPEG format.

Basic editing, including colour enhancement and cropping of the photo(s), is acceptable, provided such editing does not affect the authenticity and genuineness of the photo(s).

Advanced editing used to create illusions, deceptions and manipulations, and adding and removing significant elements within the frame is not acceptable.

Photographs should not show the name of the photographer, agency or publication or have any other identifying features/marks.

All submitted photos must contain the original EXIF metadata information.

The photographer, agent, or representative entering on their behalf should be the copyright holder or should have been authorised by the copyright holder to submit the pictures.

Copyright holders retain the copyright of their work. For all pictures, copyright holders grant Aranyakam Nature Foundation non-exclusive use of images in a non-public archive for its educational and research activities, without any remuneration being due. F

or the awarded pictures, in addition to the above mentioned uses, the copyright holders grant Aranyakam Nature Foundation permission to share and adapt the images for use in social media and other platforms. 

The copyright holders represent and warrant that submission of the pictures does not breach any law and that no third party can hold any claims or objections regarding the rights granted to the Aranyakam Nature Foundation. Furthermore, the copyright holders will have Aranyakam Nature Foundation harmless of any claims from third parties.

Photos that portray or otherwise include inappropriate and offensive content, including provocative nudity, violence, and human rights/ animal rights violations are strictly prohibited and will be rejected.

The last date to submit images:

26

August 2022

A panel of judges consisting of wildlife photographers and experts will select the best photographs conforming to the theme. The winners will be announced on the Aranyakam Nature Foundation website.

The decision of the judges will be final and binding in relation to all matters relating to the competition and may not be subject to any discussions or correspondence.

 Aranyakam Nature Foundation reserves the right to request the original files to confirm the image's authenticity.
Registration closed, results will be announced during National Wildlife Week (October 2-8, 2022)
Read More about World Elephant Day