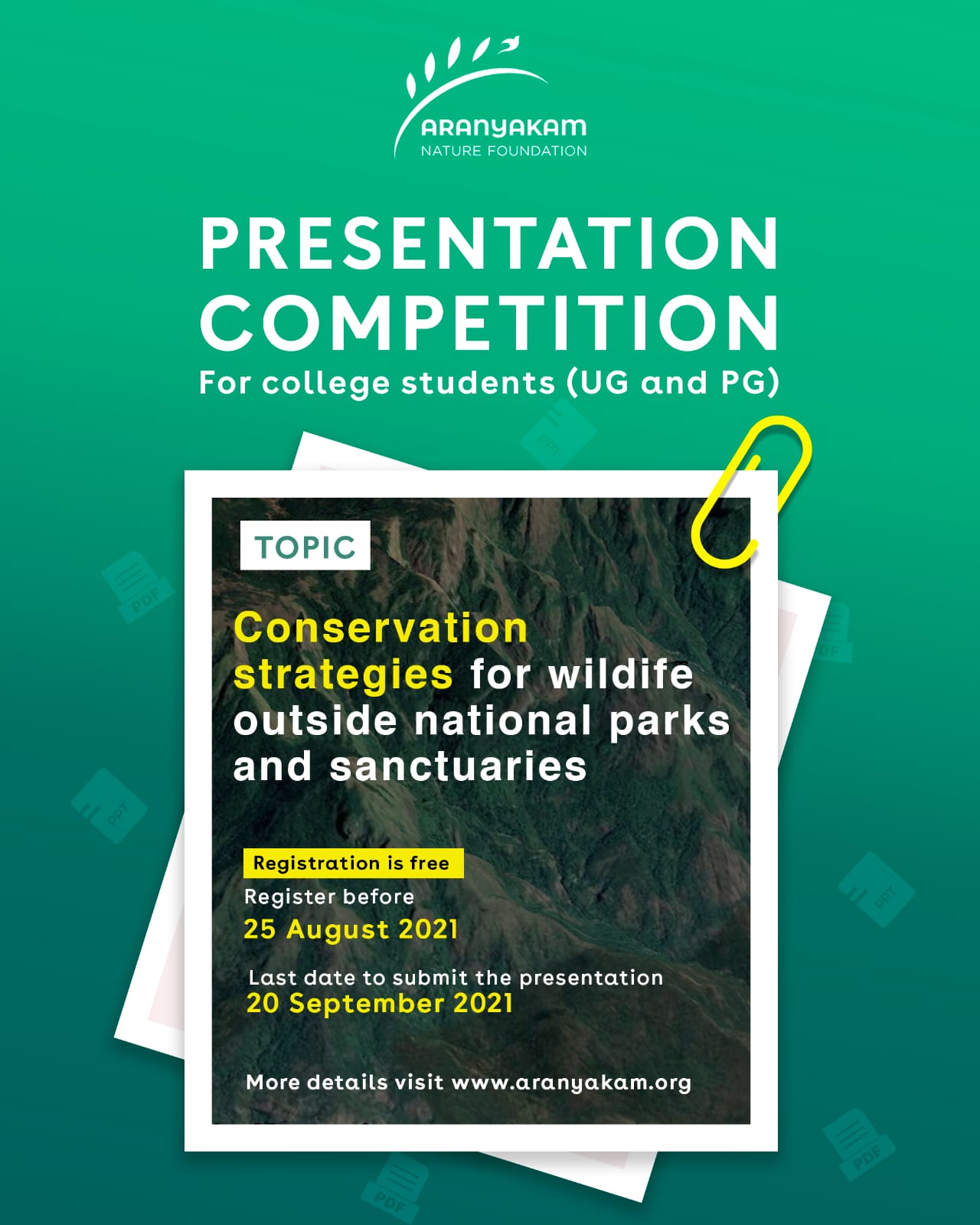 Topic: Conservation strategies for wildlife outside national parks and wildlife sanctuaries
Wildlife sanctuaries and national parks are protected environments with legal status for the conservation of biodiversity.
However, less than 40% area of the Western Ghats, one of the world's biodiversity hotspots, falls within these protected areas. With 40% of the ghats extending into Kerala, it becomes imperative that we understand the issues facing the conservation of the areas that lie outside the legal protection of wildlife sanctuaries and national parks.
Through this presentation competition, we hope to engage young minds and encourage them to identify, understand and analyse the challenges for conservation of wildlife outside wildlife sanctuaries and national parks, and come up with novel solutions in time for wildlife week 2021.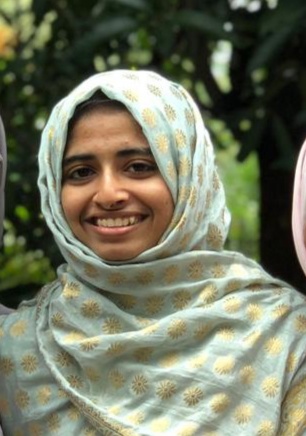 1st Prize
Lulu Mujeebrahman
BSc Botany
St.Joseph's College Devagiri, Devagiri, Kozhikode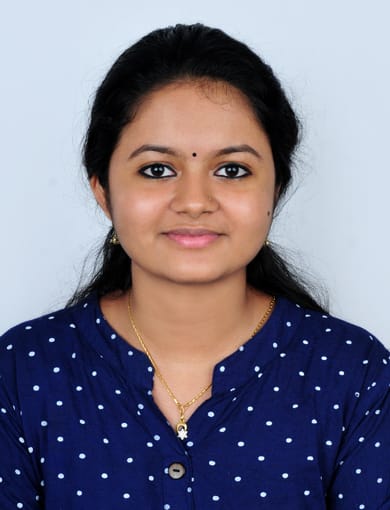 2nd Prize
Saranya J
BSc Botany
Sanatana Dharma College,Kalarcode,Alappuzha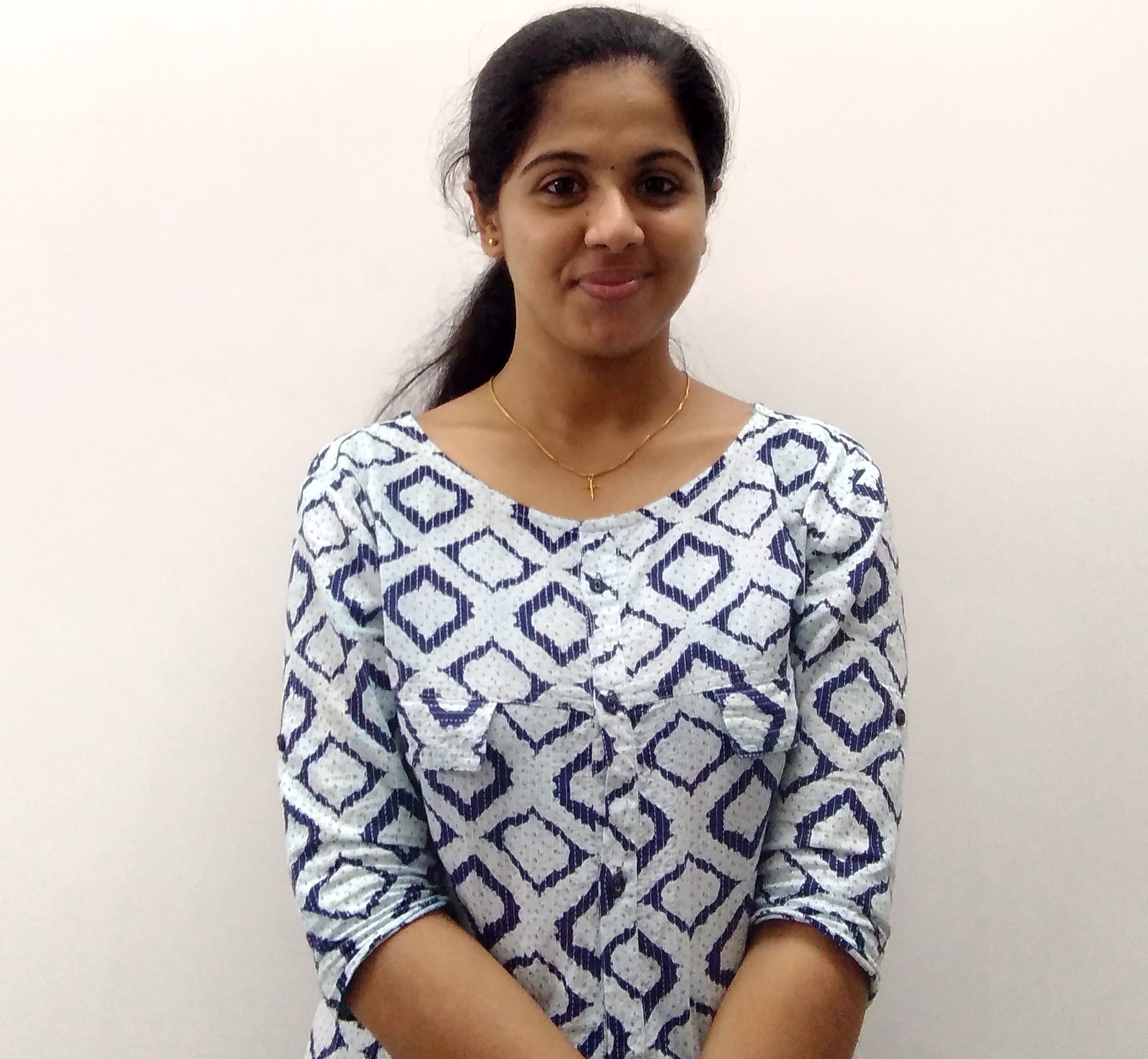 3rd Prize
Christeena Jacob
Msc Zoology
Dr Gafoor Memorial MES College , Mampad college post, Malappuram
Shortlisted candidates
Aiswarya GS, Mahathma Gandhi College, Thiruvananthapuram
Anchu Vinod, Bishop Abraham Memorial College, Mallappally, Pathanamthitta
Ashly Sojan, Yuvakshetra Institute of Management Studies, Mundur, Palakkad
Basim A, DGM MES College, Mampad, Malappuram
Christeena Jacob, DGM MES College, Mampad, Malappuram
Devika Ajayakumar, Alphonsa College, Pala, Kottayam
Jonathan Edward De Rozario, Kerala Veterinary and Animal Science University, Pookode, Wayanad
Lulu, St. Joseph's college Devagiri, Kozhikode
Mary Angel Jackson, St.Joseph's College Irinjalakuda, Thrissur
Parvathy AG, Mahathma Gandhi College, Thiruvananthapuram
Saranya J, Sanatana Dharma College, Alappuzha
Vardha Naourin P, Farook College, Kozhikode
Important dates:
Last date for registration: 25 August 2021
An orientation session for registered students: 29th August 2021(Sunday) 6:00 PM
Last date for uploading presentation: 20 September 2021
Communication to shortlisted students: 1st October 2021
Presentation date: 3rd October 2021
Guidelines:
Registration is free
The presentation can be in English or Malayalam
The competition is open to all graduate and postgraduate students from the colleges in Kerala
Those who appeared their final examinations 2021 also eligible to participate
Participants need to register for the competition by 25 August 2021
Maximum 15 slides are allowed in the presentation
The content of the presentation should be original
Initial screening will be based on the presentation slides uploaded
Presentation should be in slideshow format
Shortlisted participants will be informed a week earlier of the presentation
Each shortlisted participant will get 10 minutes for presenting their idea
Live presentations session during national wildlife week, 3rd October 2021.