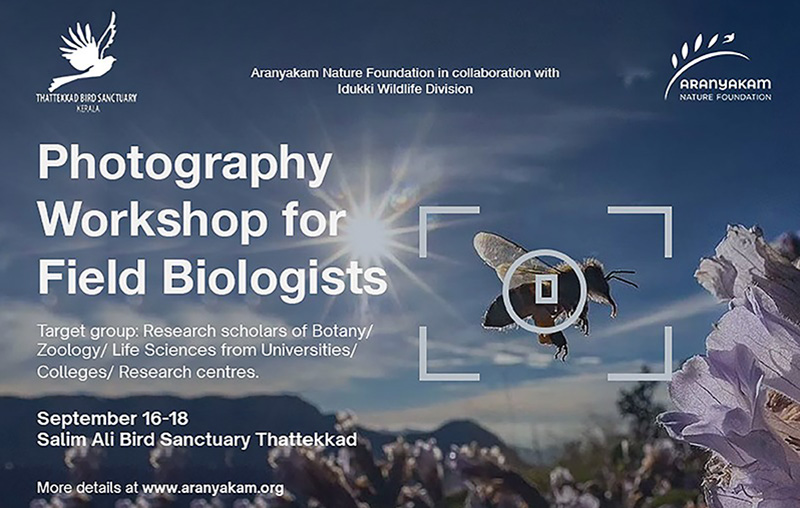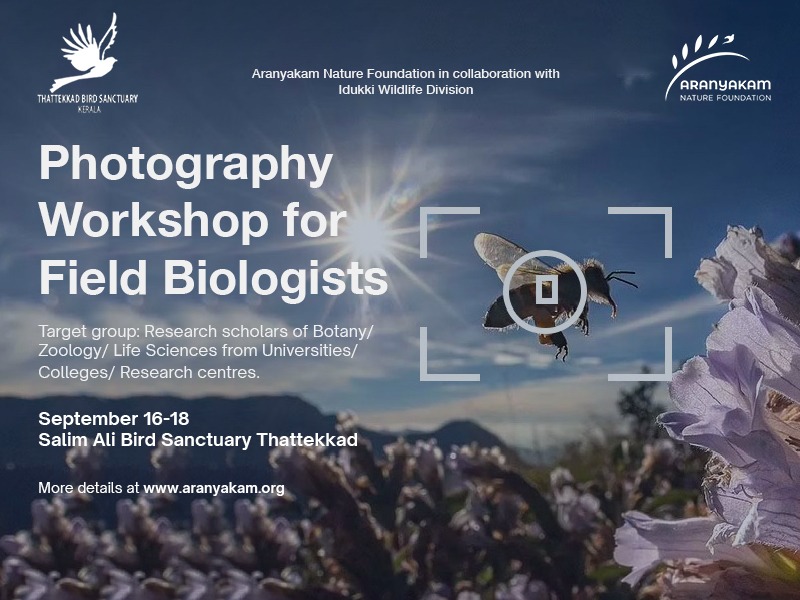 Aranyakam Nature Foundation, with the logistic support of the Idukki Wildlife Division, brings you a photography workshop of a different kind.
Biological photography, or biophotography, is the use of photography for educational, research, or illustrative purposes. The photographs or videos often help researchers explain complex problems with visual aid. While it is an integral part of research for scientists, on its own, biological photography may become a career path for some others.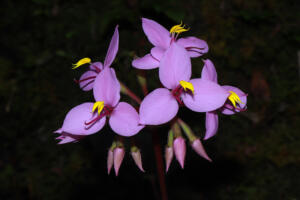 In this workshop, you will learn how biological photography is more than just aesthetics and involves methods for documenting your research subjects in different situations in a presentable form. The workshop will be led by experts in biological subjects whose excellent photography skills have helped them publish in acclaimed scientific journals. You will be able to refresh the basics of the science of photography, learn how to plan and execute your photographs, and use post-processing techniques to highlight the characteristic features of your subject. More importantly, you will learn to combine your knowledge of the scientific object with the art and science of photography and come up with results that are crisp and clear scientific documents. In addition, you will also get an insight into the ethics of biological photography.
Location of Thattekkad Bird Sanctuary
Instructions
This photography workshop is an educational activity and not a picnic, outing, or adventure activity.

Registration of participants will be on a first-come, first-serve basis on payment received from the participant.

Participants must carry their proof of identity along with a declaration form which will be sent to the registered participants.

All participants should stay at the venue for the complete duration of the camp.

Stay will be arranged at the dormitory/guest house on a shared basis.

A basic vegetarian meal will be provided.

Wear colours that blend with the forest – khaki, brown, and olive green are ideal colours to wear in a protected area.

Bring rain gear such as raincoats, rain pants, and umbrellas.

Do not carry music systems in the camp or during the field visit.

Do not use perfumes during the camp.

Do not carry any inflammable articles, and do not light fire in the forest area.

Do not feed or tease any wild animals.

Do not collect anything from the protected areas.

Smoking or consuming alcohol is strictly prohibited.

Most important:

Bring your photographic equipment – including a laptop – for photography and image processing(this is optional, you can attend the workshop even if you don't have a camera).