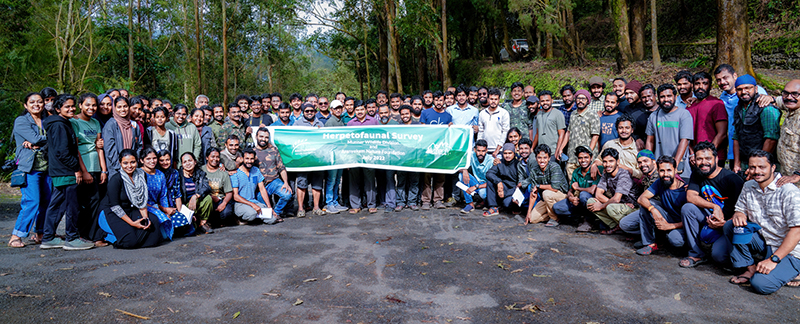 Survey of herpetofauna (amphibians and reptiles) of six protected areas, including four national parks, Eravikulam, Mathikettan Shola, Anamundi Shola, Pampadum Shola and two wildlife sanctuaries, Chinnar and Kurinjimala of Munnar Wildlife Division has been completed. Even though surveys were conducted individually in each protected area, this is the first herpetofaunal survey covering all of the protected areas simultaneously. The survey was conducted from July 20 to 24 and organised by Kerala Forest and Wildlife Department and Aranyakam Nature Foundation. Around 95 volunteers from research institutes, including Kerala Forest Research Institute, University of Calicut, Kerala Veterinary University, Forestry College and NGOs like Malabar Natural History Society, Soochimukhi, MTI, and NGI participated, along with around 100 forest officers.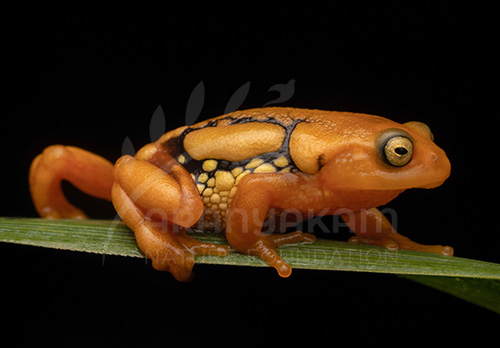 Munnar Wildlife Division Wildlife Warden Shri Vinod SV, Aranyakam Nature Foundation Chairman and former Kerala Forest Research Institute Director Dr PS Easa, researchers Shri Sandeep Das, Shri Rajkumar KP, Eravikulam Assistant Wildlife Warden Job Neriaparambil, Shola Assistant Wildlife Warden Arun K Nair, Chinnar Assistant Wildlife Warden Shri Nithinlal, Wildlife Assistant Shri Ajeesh AS, Shri Nitin Divakar, Shri Abdul Riyas and Shri Dhruvaraj S led the survey.
The surveys were conducted day and night in 28 camps across all the different habitats of the Munnar wildlife division spread across 230 square kilometres and recorded 60 amphibians and 74 reptiles.  Each camp consisted of forest officers, students and naturalists, and the surveys were conducted from 8:00 to 12:00 in the morning  and from 6:00 to midnight. Among the findings, one caecilian, two shieldtails and one ground gecko could be new to science and require detailed investigation to confirm the identity, says Sandeep Das. Apart from that survey, six reptiles and four amphibians were  added to the total list of species known from the  protected area.
Forty-five amphibians endemic to western ghats, including Kadalar Swamp Frog, Toad Skinned Leaping Frog, Munnar Torrent Frog, Cold Stream Torrent Frog, and around 20 threatened species including critically endangered like Resplendent Shrub Frog, Sushil's Bush Frog, Anamala Gliding Frog and Griet Bush Frog were recorded in the survey. Gunther's Toad which was only recorded thrice from Kerala were reported from multiple camps in Chinnar Wildlife Sanctuary in good numbers. Although considered critically endangered, the Resplendent Shrub Frog was found abundant in nine camps of Eravikulam National Park and recorded as the second most abundant species in the grassland habitat. Kodaikanal Bush Frog a species famous for its polymorphism earlier recorded from high-altitude regions of Munnar, Kodaikanal, Periyar Tiger Reserve, and Megamalai sanctuary was found to be the commonest species with records from 20 camps out of total 28 areas surveyed.  
Among the recorded reptiles, 29 out of 74 are found only in the Western Ghats, and nine of them are classified as Vulnerable, Endangered, or Near threatened in the Red Data Book of IUCN. Star Tortoise, Mugger Crocodile, and Pied-bellied Shieldtail are vulnerable. Rurk's Cat Skink, Bengal Monitor Lizard, Indian Rock Python, Common Sand Boa, and Gunther's Vine Snake are considered near-threatened. Red-spotted Shieldtail, Large-scaled Forest Lizard, Yellow-green Cat Snake,  Three-lined Shieldtail; a snake recorded only three times from Munnar and Anamala Wood Snake, along with three day-geckos which were discovered in Eravikulam National Park are also found during the survey.  Apart from these, Indian Garden Lizard, Anamala Spiny Lizard, Common Keeled Skink, Gunther's Vine Snake, and Large-scaled Pit Viper are also recorded in twelve camps. Among lizards, South Indian Rock Agama is common in Chinnar Wildlife Sanctuary and Annamalai Spiny Lizard, which lives in the high-altitude regions, were most abundant. In the case of snakes, Gunther's Vine Snake and Large-scaled Pit Viper were most recorded during the survey.