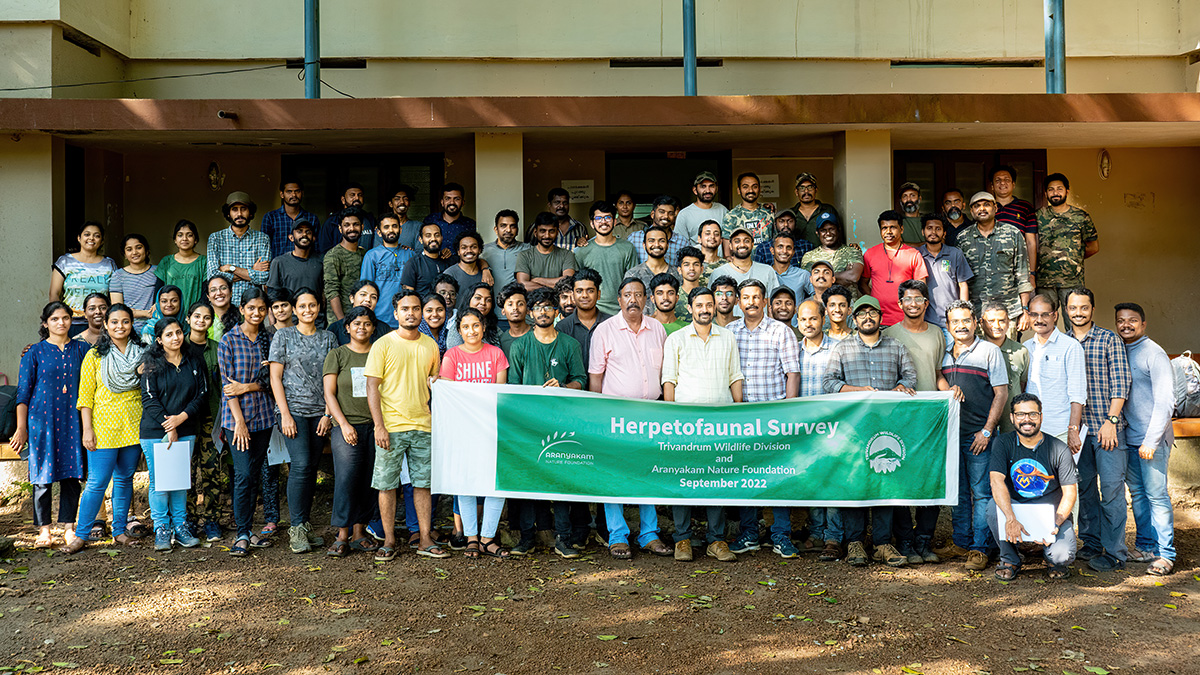 The survey of herpetofauna(amphibians and reptiles) has been completed in protected areas under Trivandrum Wildlife Division, including Neyyar, Peppara Wildlife Sanctuaries, and Agasthyavanam Biological Park. Though surveys have previously been conducted separately in each of these protected areas, this is the first time a team consisting of researchers, students, and naturalists is conducting a survey of amphibians and reptiles covering the whole area.
The survey was conducted from September 20 to 24 and organized by Kerala Forest and Wildlife Department and Aranyakam Nature Foundation. Around 75 volunteers from research institutes, including St. Joseph's College, Irinjalakuda, Kerala Forest Research Institute, University of Calicut, Kerala University, Kerala Veterinary University, Forestry College, Farooq College, and NGOs like Malabar Natural History Society, Travancore Natural History Society participated in the survey along with 50 forest officers.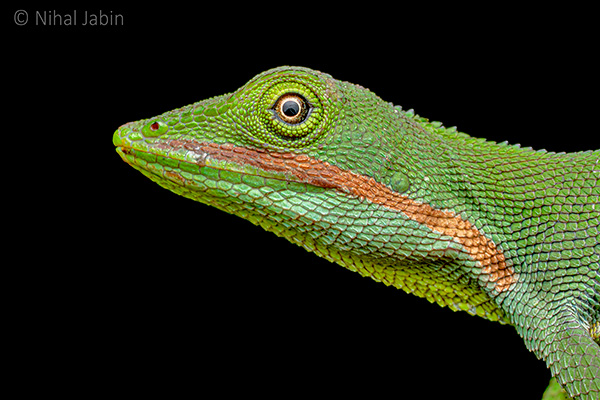 Trivandrum Wildlife Division Wildlife Warden Shri. Suresh Babu IS, researchers Dr. Sandeep Das, Dr. Rajkumar KP, Mr. Nitin Divakar, Neyyar Assistant Wildlife Warden Shri. Brijesh Vasanthan, Peppara Assistant Wildlife Warden Shri. Salin Jose, Agasthyavanam Assistant Wildlife Warden Shri. Anish Kumar and Aranyakam Managing Trustee Shri Dhruvaraj S led the survey.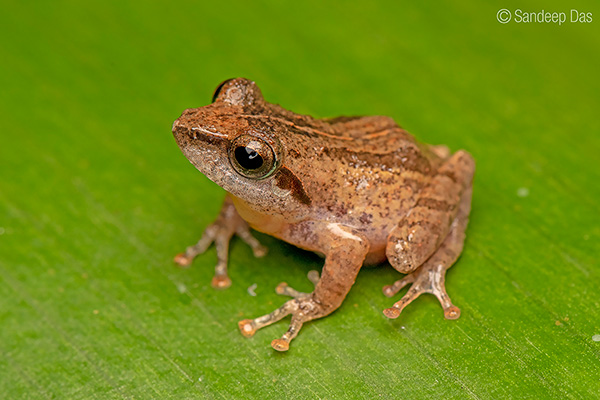 To cover all habitats of the protected area spread over 212 square kilometers, 17 camps with forest officials, students, and naturalists as members were set up. The team conducted the study from 8 am to 12 pm and 6 pm to 12 am. 67 species of amphibians and more than 80 reptiles were recorded during the survey. The Orange-lipped Lizard that was recorded from Peppara Wildlife Sanctuary is one of the rarest species of reptiles in the Western Ghats. Dr. Sandeep Das commented that this is just the fifth record of these lizards found only in the Agasthyamala region. The survey team also opined that one species of caecilian and three species of shieldtail snakes recorded during the survey should be subjected to detailed studies. This survey discovered more than three species of amphibians and about ten species of reptiles that have not been previously reported from these protected areas. Speaking during the closing ceremony, Wildlife warden Shri Suresh Babu IS concluded that such surveys are an insight into how inhabitants of microhabitats like reptiles and amphibians form an integral part of biodiversity, just like elephants and tigers, and that their protection is important not just for the ecosystem but also for our future wellbeing.
Spotted Leaping Frog, Beddome's Toad, Kallar Torrent Frog, Kani Bush Frog, and 55 of the total 67 amphibians recorded in the survey are endemic to the Western Ghats. The report also included the Chalazodes Bubble Nest Frog and the Large Ponmudi Bush Frog, which are in the Critically Endangered category. All 16 species belonging to the threatened category (Critically Endangered, Endangered & Vulnerable) under the IUCN Red List were surveyed. Dr. Sandeep Das mentioned that Neyyar and Peppara Wildlife Sanctuaries have more amphibian diversity than any other protected area in Kerala.
Out of the 80 reptiles recorded, 42 are found only in the Western Ghats and eight reptile species are under the Vulnerable, Endangered, and Near Threatened list of the IUCN Red List. Cochin Cane Turtle and Indian Kangaroo Lizard are in the Endangered category, and Mugger Crocodile and Travancore Tortoise are in the Vulnerable category. According to Dr. Rajkumar the recording of the Travancore Cat Snake, which is relatively rare among cat snakes, Agastya Pacholan (Keeled Vine Snake), Travancore Vine Snake, and Travancore Pit Viper, found only in the Agastya Hills, indicate the importance of the rich biodiversity in the Agasthyamala Hills.
Wildlife Warden Shri. Suresh Babu IS : 9497261687
Dr. Sandeep Das : 9496349550, 6282897824